Sketching a German Fairytale Village. Live.
Sa, 15.05.2021 15:45 - 20:00 Live-Online Kurs Ian Fennelly Urban Sketching 39 EUR
Sketch along with Ian Fenelly, the master of watercolour poetry! Ian will introduce you to Munster, a beautiful German village where he spent a day sketching the picturesque old town. During the course you will have live access to high res reference pictures as well as a real time video stream which allows you to observe Ian sketching, whilst you are creating your own work of art. Ian will host two live critique sessions to which participants can submit their work unfinished or finished. Also during these sessions Ian will answer all sorts of questions which may have come up during class.
Starting TIME: 3PM UK Time/ 4PM German Time
Ian Fennelly is a legend. His unique way to approach cities and villages and turn bricks and mortar into artful poetry with Liners and Watercolour has inspired a whole generation of urban sketchers.
Both an excellent observer and a master of humorous interpretation with ink and brushes, Ian will never 'just' record cityscapes. - He will MAKE them more colorful, more bubbly, more elegant and somehow weightless.
In this online class you will be live with Ian, while we are streaming a recording of him sketching the city centre of Munster, a small historic town in Germany. You will have access to the exact same view that Ian used when he created his sketch, and you will be able to follow him step by step in 'real time', listening to his advice, and learning and applying his unique sketching process.
Even better! Rather than just sketching along with the master, in the middle and at the end of class you will be given the opportunity to upload your unfinished artwork and ask Ian any questions regarding your finished or unfinished piece! The artistravel team will pre-select a range of sketches and questions then Ian will critique the drawings and answer your most interesting questions. Afterwards everybody will resume sketching...
In total the session will last for about 4 hours with 2 short breaks and 3 valuable live feedback-sessions. You will be leaving with a finished sketch, having shared valuable time with a community of fellow artists and Ian Fennelly! Don't miss the opportunity! Apply today.
Course Detail
The Session will start at 4:00 pm (CET) with short introductions both from Ian and the artistravel Team. You'll then be taken through Ian's sketching process watching a real time high quality Video Stream.
After about 45 Minutes we will stop the Video Stream and you'll be given the opportunity to upload your work to our Bulletin Board. Ian will then pick a few of those unfinished sketches and critique / discuss them live, giving valuable advice and recapping some of the steps everybody in class should have been accomplished by then. (composition and coloration) Also this natural break will be great to grab a cup of tea and will give slower sketchers the opportunity to catch up.
After about 25 minutes the sketching process will continue to then be paused again before the final stage of "details, finishing touches and storytelling". Again Ian will summarize the steps accomplished using live examples picked from your uploads! It will be very useful at this stage to look at the work of other participants and learn from their work!
A final sketching round will last for about 20 mins, after which there'll be a 45 minute break. Again this will give everybody the opportunity to finish and upload their pieces.
The class will be completed at about 8:00 pm (CET) with a longer critique and feedback session during which Ian will also answer some of your questions.
SURPRISE: We will be giving away signed prints and Ian's original sketch valued $ 400,- to participants!
You will have access to exclusive online material:
Intro Ian (from Muenster) + pre sketch (one day in advance!)
4-5 steps as high res screenshots from the video
high res reference picture(s) of Muenster
Online streaming material available during class
full length video (including close ups where appropriate) of Ian's sketching process with his advice and tips
2 live online critique sessions with Ian Fennelly discussing the progress students are making and answering any questions.
Skills level: the course is meant to be for beginners as well as for advanced learners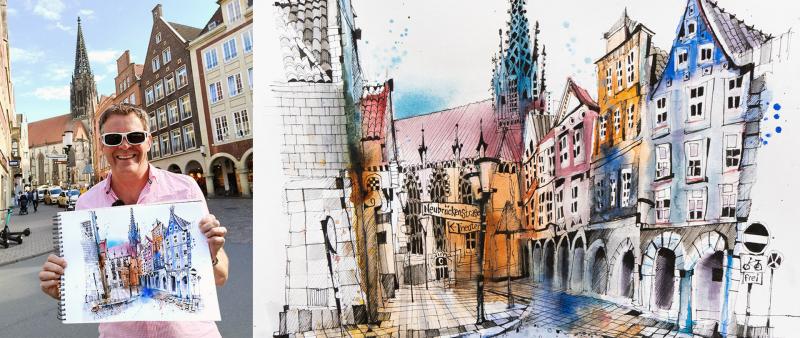 Ian Fennelly